Cloud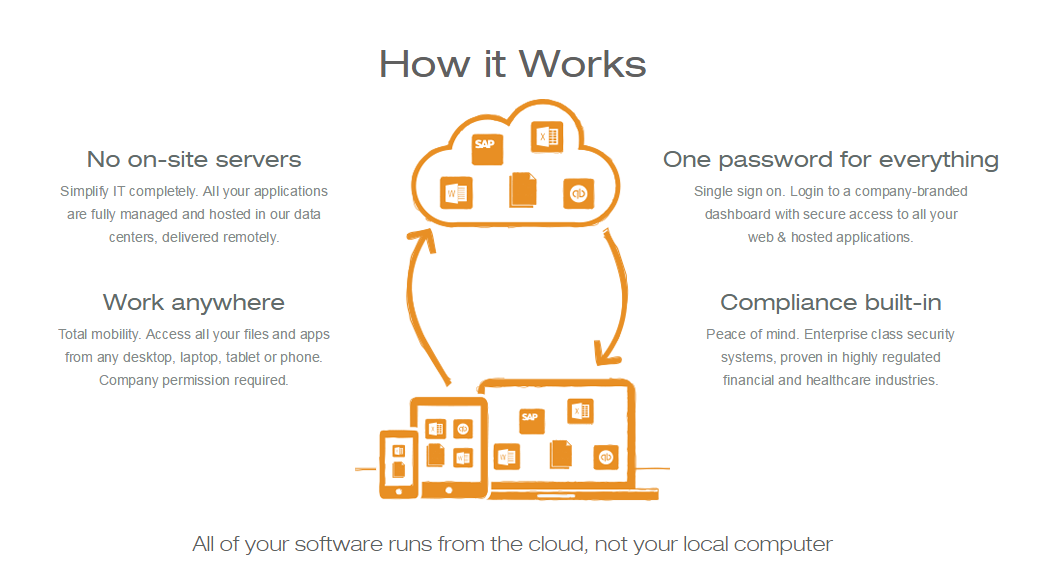 Technology has reached a point where it is almost impossible for a RIA firm to keep up with regulations, compliance, security and ease of use while staying within a reasonable budget. This is where our cloud platform enters the picture and helps alleviate the IT burden commonly felt by RIA firms.
Focused On RIA Firms
This cloud platform is focused on RIA firms. We know your personalities, your software, your workflow, your deadlines and we know what makes a RIA firm succeed in today's marketplace. Our offering is suited to meet the unique needs of your firm.
Never Buy Another Server Again
Our cloud platform allows your firm to get rid of your onsite servers. You'll have a web login where you can securely access all your applications and data from any computer with an internet connection. Our comprehensive plans include cloud email, cloud file server, cloud application server and much more. This includes software applications such as Microsoft outlook, Microsoft Office, individual drive, company shared drive and supports industry specific software from Junxure to Advent Software and more. This platform gives you the ability to integrate RIA industry specific software from portfolio management and reporting to CRM to fee billing to client reporting. This platform is designed to provide you and your firm the peace of mind knowing that you have a stable, secure environment with end to end IT support.
On The Go Productivity
We provide you with access that is secure, reliable and easy to use so that it fits your firm's culture. With our cloud platform, we truly allow a RIA firm to go mobile while leaving nothing behind. Basically, you can access your network from any device with an internet connection, no matter the setting, with the same experience whether in the office or away.
How It Works
Accessing our cloud platform is as easy as 1-2-3. As long as you have an internet connection, you can access it from any device. Here's an example of some of these devices: Windows, Macs, iPads, iPhones, and Androids. Here's how:
Open any web browser and go to http://www.RIAWorkSpace.net
Enter your username and password
You now have full access
Keeping Your RIA Firm Secure
Regardless of the size of your firm, it's very difficult to provide the necessary protection for your business. All the mounting threats and regulations are enough to keep your head spinning. However, there is a better way for your firm to keep your data safe and have the right security measures in place. Our cloud platform brings "Fortune 500" security features to your firm in a way that won't leave you broke and at the same time allow you to surpass and exceed what you could manage and afford on your own.
Data Center Security Certifications and Standards
The data centers adhere to the following information security and related certifications and standards.
ISO 27002
ISO 27001
PCI-DSS
SSAE16
SOC 1
SOC 2
SOC 3
SAFE HARBOR
Data Center Infrastructure
SAS70 Type II compliant state-of-the-art data center
Enterprise class rack mounted servers
Nightly backups
Hardware maintenance and upgrades included
Secure access controls to data center: two-factor authentication, biometric scanners
Complete monitoring, troubleshooting and remediation of network issues
Keycard protocols, biometric scanning protocols, and around-the-clock interior and exterior surveillance
UPS (Uninterruptible Power Supply) for all servers
N+1 redundant UPS power subsystem, with instantaneous failover if the primary UPS fails
If an extended utility power outage occurs, onsite diesel generators can run indefinitely
N+1 redundant HVAC (Heating Ventilation Air Conditioning) system ensures a duplicate system
immediately comes online in the event of an HVAC system failure
Advanced fire suppression systems
Always high-performance bandwidth
9 network providers, for multiple redundancies
Fully redundant, enterprise-class routing equipment only
Configuration, co-developed with Cisco, guards against single points of failure at the network level
Cisco and Arbor Networks work with us to continually improve monitoring and security
Certified Network Technicians that are trained to the highest industry standards
Schedule a Demo of the RIA WorkSpace Cloud Platform